Wondering how anyone manages to keep their fitness up and workout while travelling?
Having spent a huge amount of my life on the move, I'm familiar with the challenges of keeping fit and healthy while travelling. I totally empathise with anyone who finds the whole idea of working out while travelling daunting. Often, weary from the journey and unsure of our surroundings, the last thing we want to do is a HIIT session or even a light jog.
Beers in the nearest bar seem so much more appealing, right? Whether you're travelling for work, or for fun, here's the truth…
Staying fit and healthy while travelling is totally achievable: it just requires a little planning and determination.
For a lot of the time when I've been travelling, keeping fit by using travel workouts and exercises was a requirement for my job.
I spent 8 years in the military and for a lot of this time, I would be living and working in tough environments.
This made it difficult to keep to a normal workout routine. From derelict concrete compounds in the desert to cramped ships in freezing seas, I've had to do my best to remain in great shape in a huge variety of conditions. It becomes easy to talk yourself out of working out and to help me overcome the excuses which creep in when travelling, I find 'just get it done' to be an amazingly useful mantra.
Why?…
Because if I overthink things, I'll usually find a reason (an excuse) not to workout. If, on the other hand, I see the workout as something which just needs to happen and I don't dwell on the reasons why not to do it, I'll find a way to 'get it done'. And, of course, I always feel so much better afterwards.
Remember: If you always strive for the perfect conditions to workout, you'll find a reason you can't do it. A workout doesn't have to be perfect to be beneficial…in fact, far from it!
After my military career, I immediately took off for a year, travelling on a shoestring budget to some pretty awesome places. I learnt a hell of a lot about keeping in great shape while travelling for fun too. At times, the activities I was doing kept me fit. Whether that be trekking at 5,500m in Nepal or surfing some of Indonesia's epic reef breaks, I often pushed my body. But, in order to do those activities, I needed to stay fit in-between.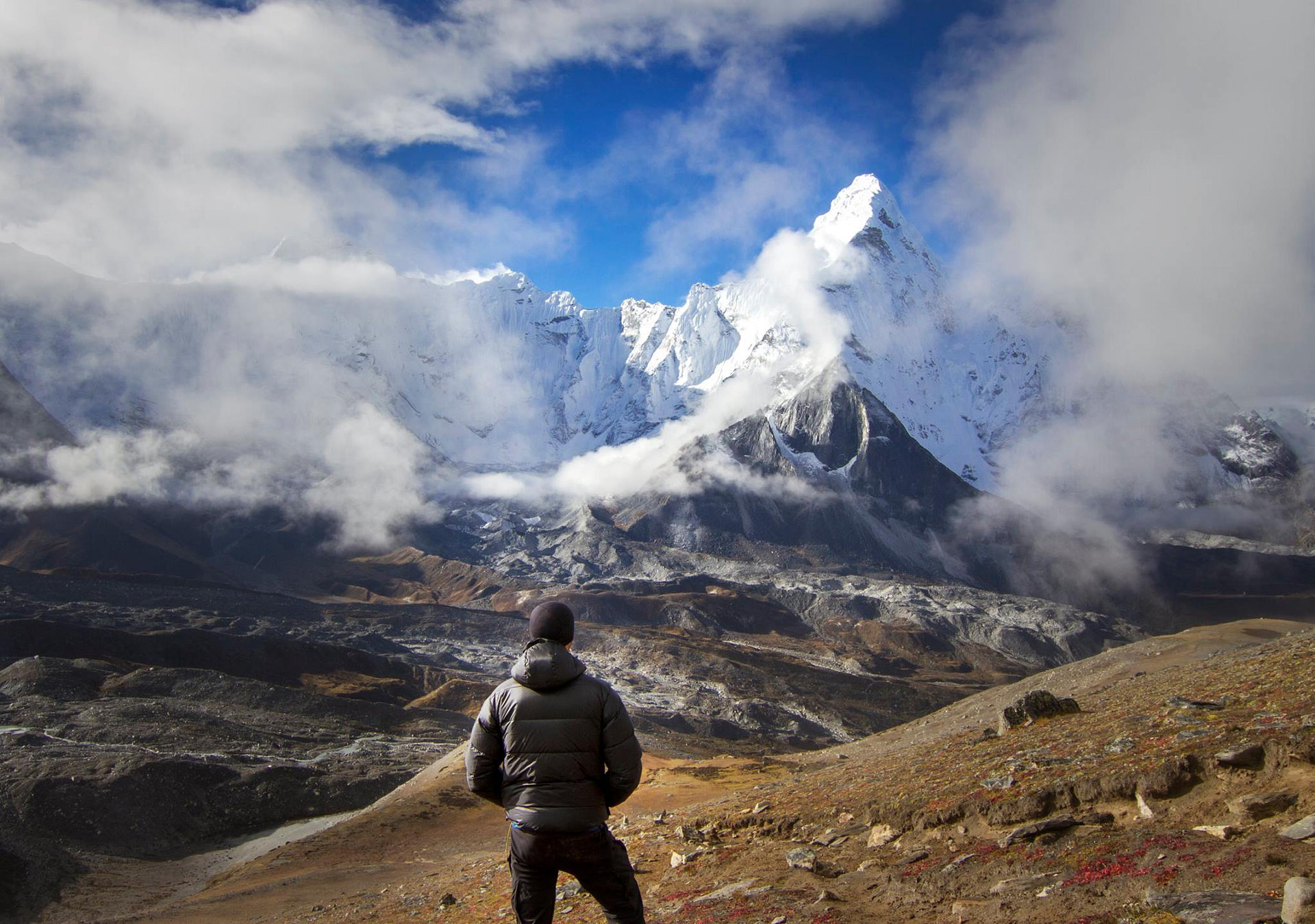 But when we're not hiking through mountains,  staying in shape while travelling can be quite a challenge. That's why I've put together this definitive guide on how to stay in shape while travelling away from the comforts of home.
Having a travel fitness routine helps…even if that routine changes:
Most people are creatures of habit. Doing things each day in the same order takes away a lot of decision making. This is part of the reason that it's easier to workout at home, in our 'normal' weekly routine. There's no reason we can't have routine whilst we're travelling, we just need to accept it might need to change.
Don't fear the change – embrace it and then adapt your routine. I've always found that having a rough idea of when and where I'm going to workout each day really helps with getting over that mind-block that it's too difficult while travelling. Plans often change and that's ok. Which links in with my first major point…
Pre-planning!
Workout and fitness planning before starting your journey
Want to bang out quality workouts and fuel yourself with quality nutrition away from home?
Planning in good time will help you achieve this. Actually, the fact you're here reading this shows you get the importance of planning. You're doing your research right now (or part of it) by reading this guide on how to stay in shape while travelling.
The 4 major workout considerations (pre-trip planning)
Consideration 1:
Accommodation

What type of accommodation will you be staying in? Are you staying in a hotel with a fancy gym or will you need to do your routine in your room? Where is it? What's nearby?
Here are some things to bear in mind about the different types of accommodation you might and up staying in:
Hostels – Biggest challenge: finding space to workout, so check out options for outdoor areas you can use before you go, or identify a running route as part of your planning.
In a big dorm? You might struggle to get enough sleep. Pack some earplugs


Hotels – Lucky you! Check for a gym on the website. If it has one, you're sorted. If not, you can always use your room. Take a look at our other posts for some hotel room workouts you can do. And avoid the temptation of the minibar!


Air BnBs – These come in all shapes and sizes. Some high-end ones might include access to a gym, but the majority will just be someone's spare room. Check out options for outdoor workout spaces and running routes in the area as part of your pre-trip planning (mapmyrun.com)


Camping- Nature is your playground… and your gym! Find a tree branch for those pullups, a rock to use for curls/overhead presses or, hit the roads to rack up some running miles. If you're staying on a campsite and feel self-conscious about working out in full view, you should be able to find a park or open space nearby


On Ship – Ok, less common: You'll often need to make do with what you have access to. You should be able to find a space (if your room/cabin is too small) to do a static bodyweight workout. On some ships, you can run around the deck – just remember to alternate direction now and again.
In rough seas, it's best not to workout – it's a sure-fire way to get seasick
Consideration 2:
The environment
What's the climate like? Should you plan to head out for a run with some bodyweight exercises thrown in or is it going to be too hot outside? Will you be in city, the country, a desert?
Climate: Cold & Icy
In moderately cold conditions, you'll be able to workout for longer compared to hot climates; effectively gaining more from your workout. But if temperatures are freezing, it can get challenging.
Remember:
Consider the clothing you'll be taking and aim to dress in layers which you can remove as you get warmer



You will warm up once you get moving, but you'll need warm clothes before and after your workout (especially if having to workout outside)



Once you stop exercising the sweat on your body can soon make you desperately cold



Woolly hats and warm gloves are your friends here – look after your extremities
Climate: Hot and Humid
Perhaps the most challenging of the climates, working out in extreme heat can make it tough going and, sometimes dangerous.
I've spent considerable time in parts of the Middle East and Africa where it gets to 45 degrees Celsius, at those temperatures working out can be horrendous.
These super-hot conditions demand respect and often the safest option is to not workout. However, if you're super-keen, here are some tips:
Take care not to push yourself too hard –and always stop at the first sign of exhaustion or headache – this is your body's first warning sign that it's not managing to regulate your temperature efficiently


Workout in the shade – first thing in the morning is the best time (around dawn or before). Second best time is at night when the sun has lost some of its heat. Drink plenty of water


Be aware of high humidity – humidity reduces your cooling ability as sweat does not easily evaporate. This can contribute to your overall body temperature


Interesting fact: working out in a hot environment actually helps your body deal with colder weather better. Sounds odd, but this was shown in a 2019 study.


What about the physical environment?
In the City?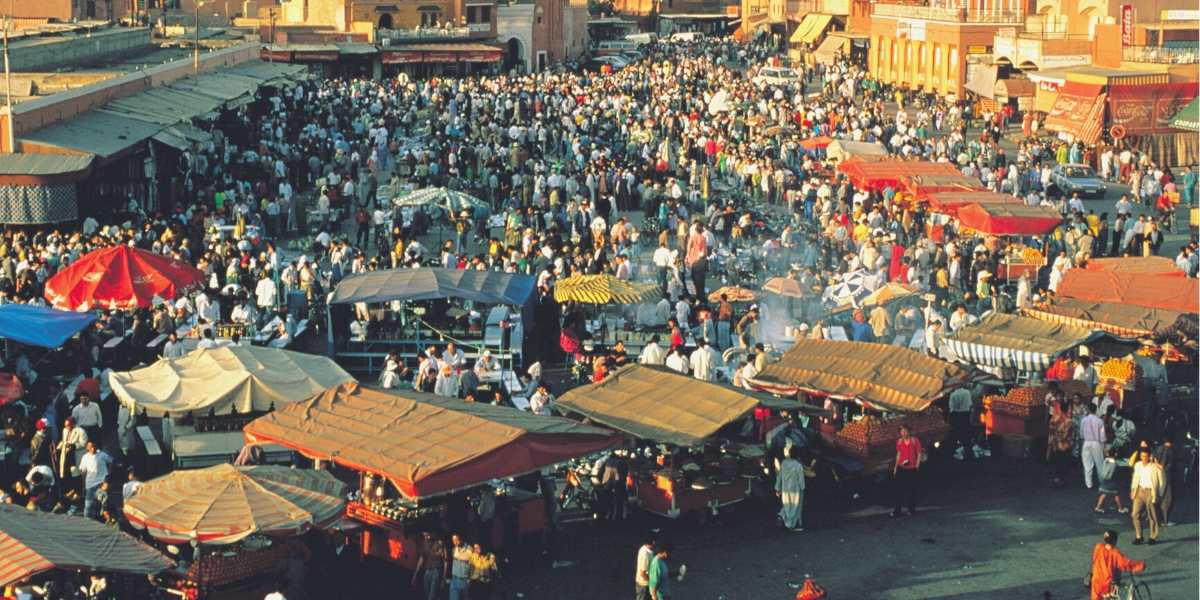 Opportunities to look out for are:
Running routes/track: less common in developing countries


Gyms (some offer a free trial)


Word of caution: if you're heading to a city which is in a developing country, these options might be limited. You may need to keep workouts to your hotel room where it can be safer (traffic is often a genuine hazard in cities without well-established road laws)


Somewhere Rural?
Often there's a whole heap of options in nature, especially if you're near trees. Deserts can be more tricky. It's all about being resourceful – use what you have with you! For example:
A 4×4 vehicle can often act as a platform for a TRX, especially if it has a roof rack


A chair, wall or even a big backpack as a way of doing elevated press-ups a use that same backpack or a rock to do overhead presses


Consider possible running routes if terrain and climate permit (check contours on a map to work out how many hills you'll encounter)


Near a lake? Finish a bodyweight circuit with a short swim – amazing!

Consideration 3:
Nutrition
Depending on where you're heading, good nutrition can be challenging. The key to not losing muscle mass is keeping protein intake at a sufficient level. This doesn't mean you need to take on more than you would at home, but be mindful that some countries generally have a very carb-heavy diet. Rice and bread form the bulk of sustenance in some countries.
No problem, this is why we plan!
You may need to identify what sort of protein source is affordable and accessible (nuts are often a safe bet, available in lots of locations globally.) My favourite are almonds, but other nuts and non-perishable items can be brought from home or bought locally and they don't suffer in the heat.

Some great snacking foods which are travel-friendly and available in most parts of the world:
Nuts: Brazil nuts, almonds, cashew, walnuts. Go nuts!
Seed mixes
Dried fruit (in moderation) combined with nuts make a great filling snack
Nut butter (more nuts, sorry). Try to get one without added sugar or palm oil!
Hard-boiled eggs (bit more preparation needed, but so wholesome!)


Tip: Plan to hit the supermarket just after arrival and buy a little more than you think you'll need. Preparing your own food will usually be better than relying on restaurants (and should save you money).
If you're going to be mostly eating in restaurants – you can find some which have menus you like the sound of and plan what you might order. Aim for at least one source of protein at each meal, with a couple of portions of vegetables too.
A quick note about aeroplane food:
Eating well during plane travel can be tricky.
Remember… you don't need to eat everything you're served. There are no rules about bringing your own snacks, like nuts, onboard (although some countries may not allow you to bring certain seeds past the border.)
Tip: Consider taking your own, good quality nutrition on board a long plane journey. It should help you feel less bloated (airline food can be very stodgy).
Consideration 4:
What to pack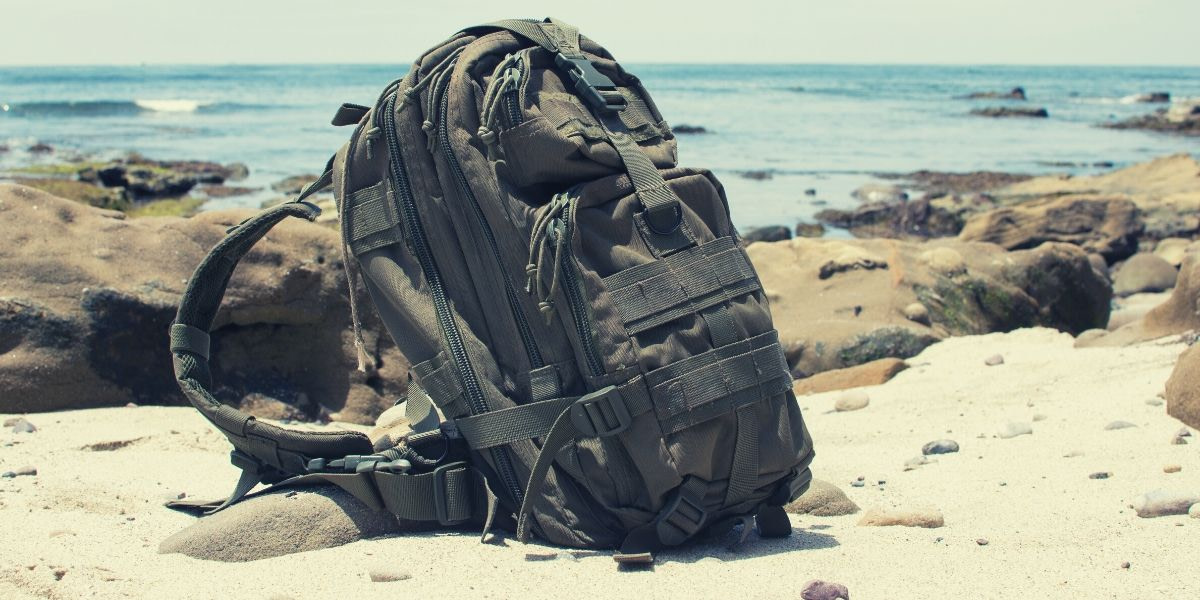 This final consideration for your planning is about what to take with you. This will depend on a few things, how long you're gone for, where you'll be staying, whether you think you'll have access to certain equipment etc.
Ask yourself these questions:
Will you only be working out in your room? You might not need training shoes, but you may want some extra workout kit to keep things interesting


Will you be hitting the gym? Best bring trainers and workout clothes, but you won't need much else


Are you going to staying in one location for an extended period? If yes, I would definitely recommend taking some equipment to keep things interesting. The TRX or Resistance Band is perfect for the scenarios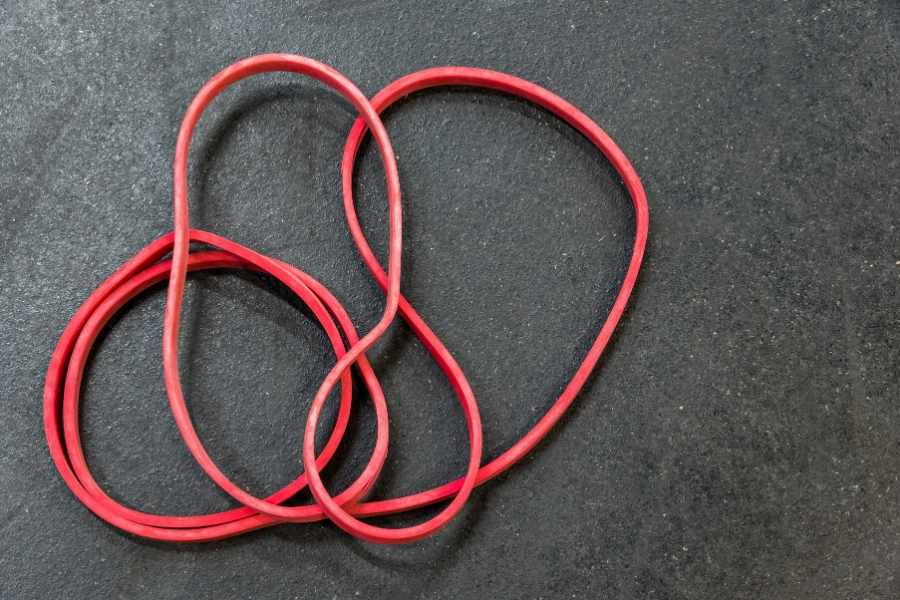 Whilst none of this kit is essential (I've worked out so many times using my own body weight in a hotel room), some of them can really add value to your workout if you've got space in your bag:
Gym rings: these are so you can strap them to overhead objects/structures (tree, overhang, 4×4 roof rack) and use for pulling/leverage exercises. My favourite is available here.


Resistance bands: Great for a heap of exercises and they weigh almost nothing. (Very popular with physiotherapists for their versatility). Purchase from Amazon.


Skipping/Jump rope: a staple bit of kit. Easy to carry and gives an awesome cardio workout. Purchase from Amazon.
Okay, that's all of the planning considerations covered, which should have helped answer the question: 'How to stay in shape while travelling'.
Before we move on to the workouts, here's just a quick example of my planning process.
This plan took me about 10 minutes…
Example:
I was heading off for a two-week business trip to Jakarta, Indonesia. There are a few things I was able to research before I went to save time, effort and stress. I then made a simple plan:
Accommodation:
I'd booked two hotels. After looking at their websites, the first had an air-conditioned gym which looked small but adequate. The second had no gym at all but was right in the centre of town, close to a running route in Honda Park (which I found through a Google search).
Environment:
After checking the air quality index for the city, I saw that there was a moderate level of air pollution forecast. The temperature and humidity both looked like they would be pretty high.
Nutrition:
The first hotel's website had an extensive menu with lots of healthy eating options, with a diverse range of local restaurants. The second hotel did not offer any more than bar snacks. After a Google Maps search for 'supermarkets', I found that the Galael Supermarket is 7 minutes from the hotel.
I also noted that tap water is not safe to drink. I would need to source bottled water.
So, this was my plan:
Week 1 – the first hotel
Use the hotel gym. Expect minimal equipment so plan to do bodyweight routines.
Eat hotel and restaurant food, supplemented by supermarket snacks (nuts & dried fruit).
Week 2 – the second hotel
Plan to use Honda Park's running route for High-Intensity Interval Training, but if pollution feels too much on arrival, workout in the hotel room as a backup (use hotel-room bodyweight routine).
Visit Galael supermarket at start of week 2 and stock up on quality proteins and complex carbs.
Items to Pack
Trainers/sneakers
2 sets of workout clothes
Cap for sun protection when running
Jump rope (for hotel room workout)


That 10-minute plan instantly made me feel more comfortable about how I was going to stay in shape, without too much stress.
Here are just a couple more final tips before we talk about the workouts:
Stay rested!
If you're tired, you won't want to workout. You also will probably not enjoy your travels as much. Sleep is so important for our bodies and minds. It gives our bodies the time it needs to repair muscles. Without a good 7+ hours a night, our muscles will not be repairing at their optimum levels.
If you're tired, you'll also likely have increased levels of hunger, as your body struggles to find energy. Here's an interesting research article which links sleep, appetite and obesity
Stay Hydrated!
Hydration features significantly in Maslow's Hierarchy of Needs. But it's easy to forget to top up the levels of fluid in our bodies when travelling. Yes, unfortunately drinking 2+ litres a day can mean several trips to the bathroom, but staying hydrated keeps your energy levels up, allows your immune system to function efficiently and should help keep headaches at bay.
In the military, we were trained to use the colour of our pee as an indicator as to our hydration levels. You should be aiming for clear or light-coloured urine. The more dehydrated you are, the darker it appears. If it is dark in colour, drink plenty of water to top up your hydration levels.
Obviously, in hotter countries, you'll need (and want) to drink more. But wherever you are, always hydrate before, during and after exercise.
Also, consider where your freshwater is coming from. In some countries, tap water is not safe to drink. Again, planning ahead will help you prepare for this; here is a useful resource to help with this.
Remember to keep hydrated on aeroplanes too. The plane cabin will usually have a humidity level of 10 – 20%. Considering a typical indoor humidity level is up to 65%, there is clearly good reason to make sure you're taking on the extra water.
Finally… the travel workouts.
Like I've mentioned above, the type of workout is going to depend on your environmental limitations and what kit you have.
My 20-minute do-anywhere bodyweight workout is a progression-based programme. It's geared up so people of almost any strength ability can follow it and if you stick to it you will see some impressive strength and endurance results. Plus, it's free!
If you're looking for a quick workout right now, here are two ultra-quick workouts which use your own bodyweight. Your own body weight is a highly effective workout technique (more detail in this post). You can alternate days, one workout on day one and the other on day two. This will hit the whole body over 2 days, whilst keeping workout time to a minimum.
Super-Quick Travel Workout: Day 1 – Legs: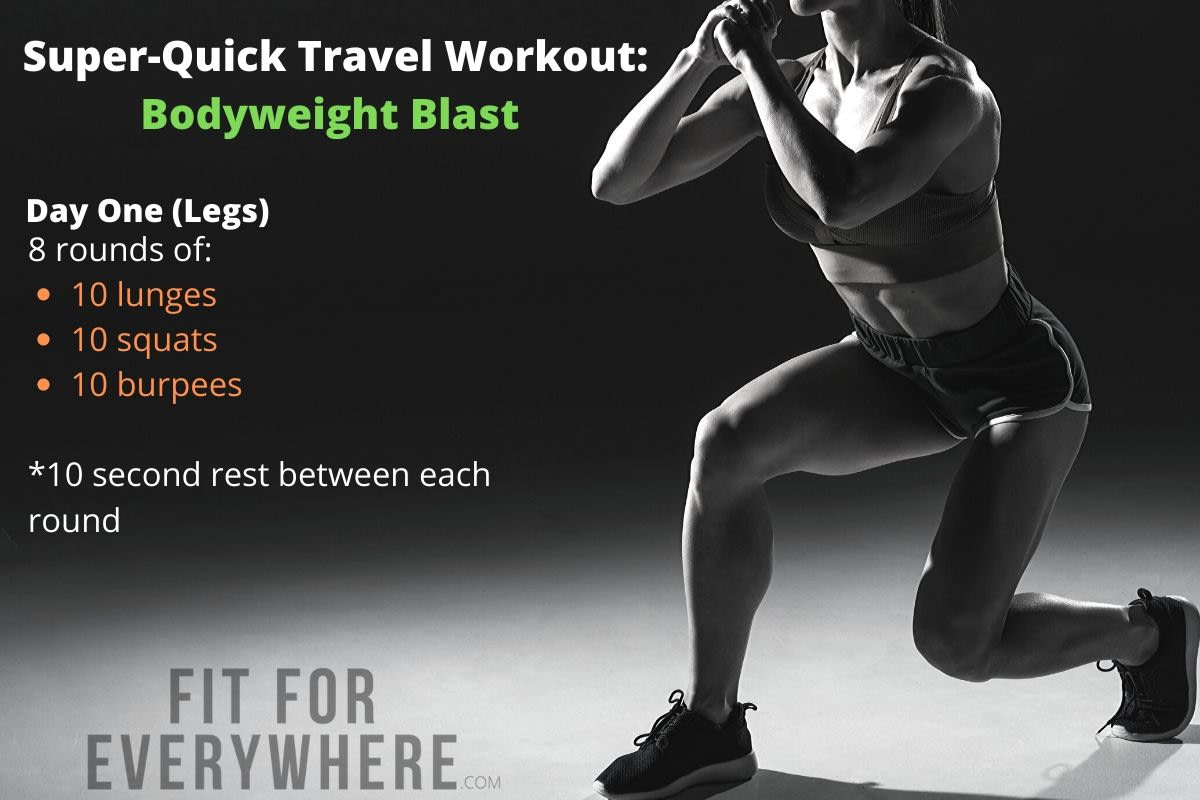 Super-Quick Travel Workout: Day 2 – Upper body: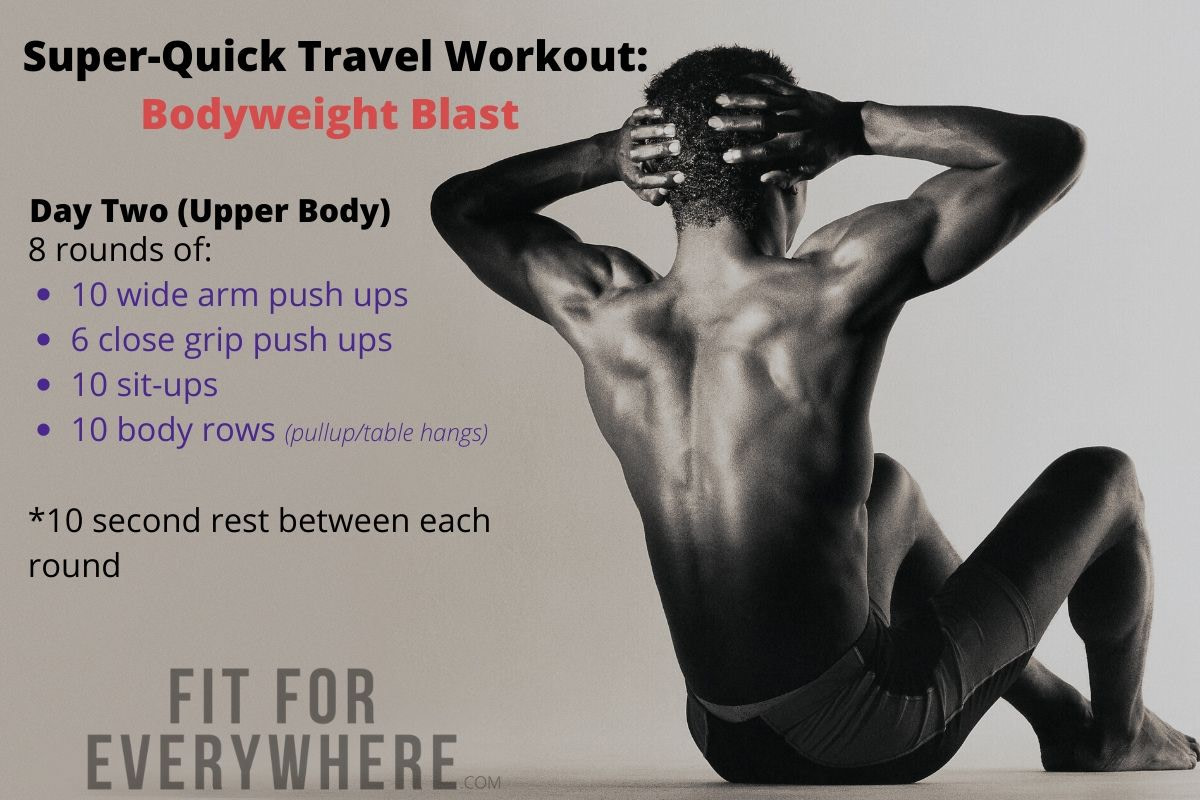 The body rows can be done as pull-ups, rows hanging from a table (inverted row) or bent over rows with a weight (rock/backpack etc).
One of my favourite whole-body workouts:
Another option if you have a little more time is this whole-body workout. I use this routine if I need to smash target my whole-body routine while on-the-road. The key with this is to go hard for the time periods. Make the most of the rest (they're short, sorry!) and don't cheat on your form.
| | | | |
| --- | --- | --- | --- |
| | Round 1 | Round 2 | Round 3 |
| Press-ups | 30 seconds | 20 seconds | 15 seconds |
| Bodyweight squats | 30 seconds | 20 seconds | 15 seconds |
| Plank | 30 seconds | 20 seconds | 15 seconds |
| Lunges | 30 seconds | 20 seconds | 15 seconds |
| Rest | 20 seconds | 20 seconds | No REST |
| Burpees [Advanced: with a push up] | 30 seconds | 20 seconds | 15 seconds |
| Pull-ups or inverted bodyweight row | 30 seconds | 20 seconds | 15 seconds |
| Rest | 30 seconds | 20 seconds | Finish |
All my workouts focus on functional fitness, which is ideal when you're travelling. You never quite know what situation you could end up in and having a body which is able to function is half the battle!
And that's pretty much it!
All you really need to know to be able to keep in shape when travelling.
Questions for you:
Do you travel for work?
Plans to head off travelling?
Anything you'd like more info on – something I've missed in this guide?
Leave a message in the comments!