Introduction
It may be that you're new to fitness. Or perhaps you've joined the thousands who have decided that gym memberships are too expensive. Or maybe it's that you're stuck at home because of a worldwide pandemic.
Whatever the barrier to your fitness goals, you're now asking yourself the question: can you get fit at home without equipment?
Whatever the reason and whatever your current level of fitness, here's the short answer: it is absolutely possible to improve your fitness at home with no equipment. 
In fact, there are some real advantages to staying fit at home, rather than heading to a gym.
Increasingly over the past few years, there has been a lot of marketing and social pressure telling us that if you want to stay in shape, you need to be heading to the gym.
Who do you think is paying for all this marketing?
Yes, you guessed it. The gyms and those working in the fitness industry.
Now, I'm not saying that gyms are not useful. I had a gym membership myself for years and modern workout equipment certainly has its place in maintaining fitness.
However, we don't need any of this equipment.
If you're familiar with me and this site, you'll know that I love bodyweight workouts and training with what we have in any given situation. This is something I learned to love during my time in the military.
For example, I might not have access to a nice air-conditioned gym for two weeks because I'm working from a hotel room in a developing country.
Rather than giving up on exercise for the duration, I'll find a way to make the most of the situation. I'll use a bodyweight routine and workout in my room. Maybe I'll use my backpack as an improvised weight for some squats or use the desk to do bodyweight rows.
My point is, there is always a way to do a workout. Even if your mind may convince you otherwise sometimes.
Why would you want to workout at home?
For loads of reasons. There's no one reason to suit all. For me it comes down to the fact that working out at home saves time and money. And I can still get in awesome shape without equipment. You just need a little know-how.
Here's another 5 very common reasons people choose to do their own workouts at home, rather than paying for a gym:
Global pandemic restricts you to your home
No gyms nearby your home or work
The weather where you live is too hot or cold to workout outside
You need to stay home to look after kids/pet/spouse or you work from home – workouts need to be quick
It's free to workout at home (I know I already said this one, but it's worth mentioning again).
Ok, so hopefully we can agree that there's good reasons to workout at home. I'm going to break down my top 5 tips to achieving fitness at home.
How to Stay Fit at Home in 5 Steps
Step 1 – Decide what your goals are.
Depending on your goals, how you approach your home workouts is going to vary.
So, decide whether your goal is:
To lose weight
To improve cardiovascular fitness (heart health)
To get stronger
To tone muscles
Improve mood and feel more energized
The good news is that you can achieve more than one of these goals at the same time. For example, pretty much any exercise will help improve mood and energy levels.
This is a symptom of exercise thanks to the fact that the body releases hormones called endorphins when we workout – this makes us feel great after workouts!
However, if one of these is your priority, it will affect how you should construct your workouts at home. I'll cover each of these goals in separate posts very soon, but the theory is basically like this:
To get stronger you need to be exercising muscles with either your body weight or additional weights
To lose body fat and build cardiovascular fitness you should be getting the heart rate up for prolonged periods
Step 2 – Plan your workouts (and get creative)
So, you're trying to achieve your fitness goal while you're based at home. As most of us don't have a home gym, we need to be a little creative when it comes to designing our workouts.
Bodyweight exercises are great and for most people, using their own body weight is enough. I have put together a PDF guide to an incredible bodyweight program that we used to use in the military. This workout plan lasts 10 weeks and is suitable for all levels of fitness. The guide has all the info you need to get started at home today. 
If you think you're going to need to add weight to an exercise because you are trying to build muscle, then look for things in the home which you could use.
Perhaps a backpack filled with books, or a large milk container filled with liquid.
As soon as you start thinking outside the box, you'll spot loads of potential workout items in your home.
Step 3 – Keep things interesting
If you're going to be working out with a partner, you can include relays in your workout.
For example, one of you might do 30 squats will the other hold the plank for the duration. Then switch. You can use this as a way to make the workout more sociable and fun. Shuttle sprints are a good option to include here if you have room in your yard or street.
You can also keep things interesting by switching up where you are working out.
Maybe use the driveway if it's dry outside, the next day use the living room. You can also create 'stations', assigning a certain room or part of your garden for a certain exercise. That way the transit between stations adds some variation to your workout.
Step 4 – Make use of the resources which are available to you
The internet has a wealth of resources, whether you choose a workout like my 10-week bodyweight plan, or use one of the many workouts available on YouTube.
Here's a couple of examples of me making use of the things round the house. Yes, at the gym there are machines to help you workout your chest and back. But there's also ways to do this at home without expensive equipment.
Table Rows: an exercise for your back, using a regular dining table
Incline Pushups: an exercise for your chest, using a chair
There's a whole load of workout resources out there.
For example, T3, Coachmag and the very knowledgeable Mikey over at Workout Cave all offer some great bodyweight focussed workouts.
Here are a couple more quick workouts from me.
Beginner 'Stay fit at home' Workout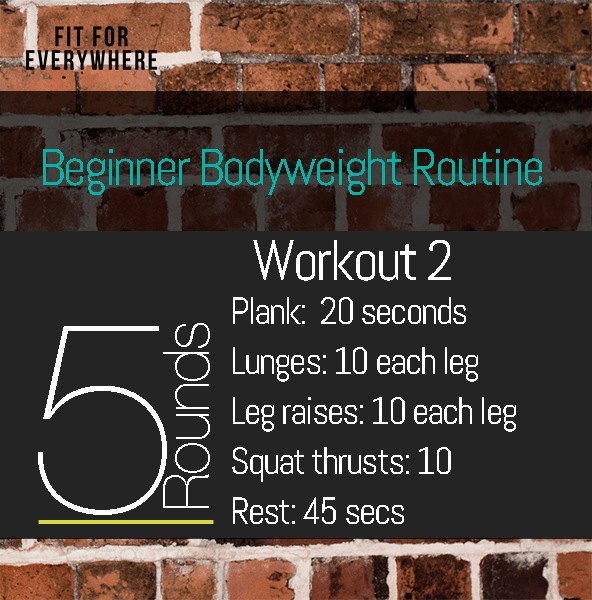 Intermediate 'Stay fit at home' Workout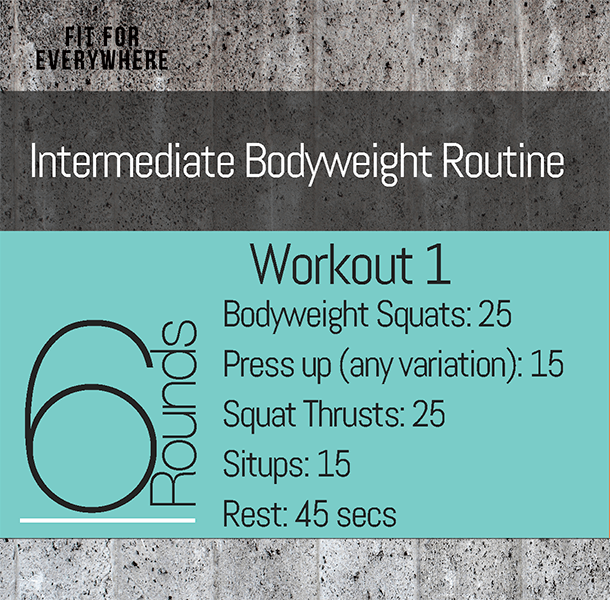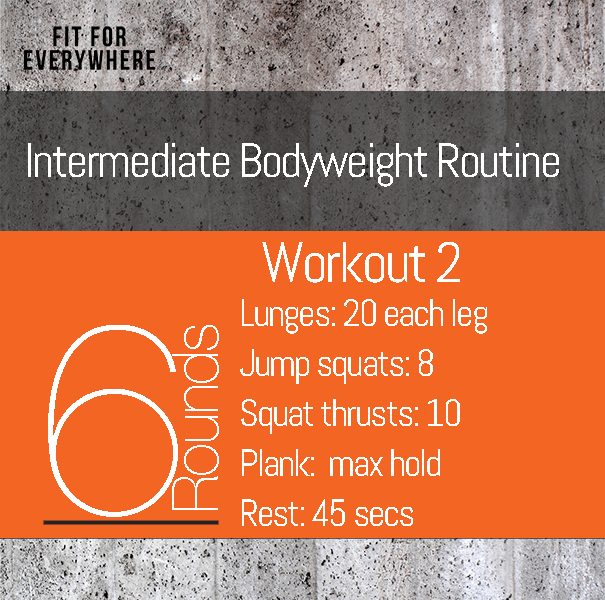 Step 5 – Reward yourself
Just like children and dogs, adults respond well to positive reinforcement as a motivation to continue to do things (yes we really are that simple.
If you did your workout – reward yourself – this might be in the form of watching an episode of your favorite Netflix series, reading your book for 15 minutes, taking a long shower or even giving yourself a little tick on your 'star chart'…
Finding the Motivation to Stay Fit at Home

A lot of people find it hard to find the motivation to workout at home.
There are a lot of distractions around us at home, our phones, family members, the TV, the washing machine, the radio. Switching off and dedicating 20 minutes to a workout can sometimes be tricky.
Here are 5 tips on maintaining motivation for home fitness
Set a time

Identify the time of day you'll workout and stick to it. Let others in your home know this is your time and that you need to be left alone – unless they are going to join you! See the next tip.



Workout in a group or with a partner

If you've set aside time to workout at home with a family member, you are so much more likely to actually do the workout. You are also more likely to enjoy the experience as it is more social.



Note down how you feel after workouts

Go workout after reading this and write down how it makes you feel after. I guarantee it leaves you feeling great and your notes can act as inspiration when the motivation is lacking next time.



Put on your workout clothes

This is a great way to psychologically set yourself up for a workout. Make sure your workout clothes are comfortable and you feel positive about yourself when your wear them.

If you're lacking motivation to workout, say to yourself "I'll just put on my workout clothes – that's easy enough". By the time you've gotten changed, you'll feel more motivated to do the workout and you can say to yourself "I'm ready now, might as well just do it".



Get the nutrition in place

If you are eating junk food and drinking too much alcohol or sugary drinks, you might not feel so pumped about exercise.

When you commit to a more healthy lifestyle and choose to eat more healthily, you are more likely to want to maintain this through exercise.

Junk food can also leave you feeling lazy as it often leads to sugar crashes. You don't have to give up all these foods forever, but just remember: everything in moderation.


Workout Motivation Audio Clip
And because motivation might just be the biggest hurdle with getting fit at home, here is a clip from the Joe Rogan Podcast. He really nails what it is to find  the motivation to workout and pursue your fitness goals. (Warning: Joe does use some 'colorful' language in this clip). 
Conclusion
Hopefully, you'll now have a better idea about how you can stay fit at home. Remember, keep it simple and work with what you have. It is totally achievable and just takes a little innovation and motivation.
Give my free 10-week bodyweight workout a try if you're stuck on where to start. And if you want some help with motivation, you should join my Facebook Group – are hub of like-minded people keeping each other motivated.
Let me know how you get on with staying fit at home in the comments. And you have any questions, shout out!