Marrakesh, and wider Morocco, has become renowned for its rich culture, vibrant souks, flavorful cuisine, and its uniqueness: a country like no other on the African continent. This is a simple guide on what you might want to wear in Marrakesh, from both a  safety and respectful point of view.
Introduction
Marrakesh has been a top destination for western travelers for decades, 2020 is likely to be no different. But Morocco, and in particular the capital Marrakesh, has developed a reputation for both minor and occasionally more severe crimes against foreign visitors.  In addition to this, unwanted attention directed at female tourists from Moroccan men has become the number one concern for many. This leaves a lot of travelers asking what they should wear in Marrakesh to reduce the chance of unwanted incidents.
In my 10 Travel Safety Tips post I talk about some of the techniques you can use to help prevent becoming a victim of a crime while traveling. In this post, we'll focus on how what to wear in Marrakesh and how it can make a difference for men and women. Being mindful of what you wear can help you to keep a low profile and stay comfortable in the hot climate.
I've been privileged to have worked in many Muslim countries over the years and I have to say that the hospitality I've experienced on every occasion has been exceptional and humbling.
This leads me to what I consider to be my most important piece of advice: understanding a country's culture and history.
Cultural History
Morocco
Taking the time to do a little research on the country's people, society and culture can help us as travelers understand why different societies behave in a particular way. We can then proactively avoid making errors or cultural faux-pas which so often lead to unfortunate misunderstandings and incidents.
Foreign visitors from more liberal countries often complain that some locals within Marrakesh aren't very respectful of them as visitors, particularly female visitors. This is often 'blamed' on the country's religion.  
Islam
Islam is the world's second-largest religion and is far younger than Christianity. It is actually believed to be 700 years younger, having started in the 7th Century. This age difference is something worth remembering when we think about how religions tend to develop over time.
Traditional Islam has strict teachings on how both men and women should conduct themselves within society. This isn't any different from Christianity, but remember, Islam is 700 years younger. If we think where Christianity was 700 years ago we would probably all agree that things were quite different. In fact, the word 'equality' hadn't yet been invented 700 years ago.
There are clothing requirements within Islam for both men and women. These requirements relate to what parts of the body should be covered, the looseness of the clothing and the glamor of fabrics.
These requirements aren't that dissimilar from those within Christianity. But remember, these religions are not the same age and in many Muslim countries these dress standards continue to adhere to this day.
Islam within Morocco
Islam has been a part of Moroccan culture for over a thousand years. In fact, it arrived in Marrakesh in the same century as the religion itself first began.
Almost all Moroccans consider themselves to be Muslim (a follower of the Islam faith). Some of these followers are more traditional than others and yes, in Marrakesh, there are some who identify as Muslim but don't adhere to the original teachings of the religion.
However, there are still a large number of the population who do follow Islam's teachings very closely.
The Perception of 'Westerners'
As is the case across a lot of the Middle East and North Africa (which is predominantly Muslim), Moroccans have, over the last 50 years or so, been fed a particular stereotype of 'the westerner'.
Hollywood, fashion and the music video industry have sexualized women within western cultures and unfortunately, this is the stereotype which we (westerners) are now part of. Yes, it is a generalization. Yes, it is unfair for many. But, it is the situation we are in and it will take a lot of time for this image to change.
So, when foreign travelers from more liberal countries visit Morocco, it pays to consider how we are categorized by the locals.
By doing this, we can limit the unwanted attention and victimization we receive. This means dressing in a way that is respectful of the original teachings of the Muslim faith. By dressing modestly you're not converting to Islam, you are simply respecting the local culture.
What to Wear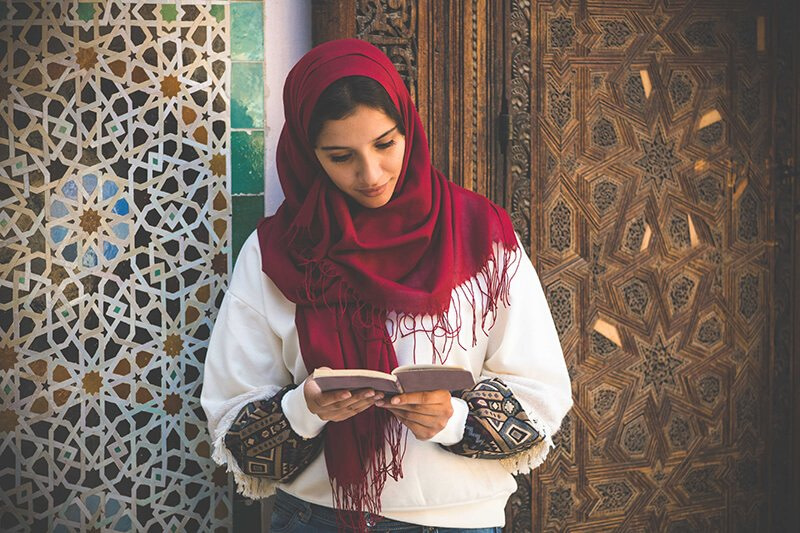 Guide for Women
The more conservative you are able to dress, the more effective this approach is going to be. Some women don't feel comfortable wearing a hijab (headscarf), for example. This is, of course, your choice in Morocco (it isn't a choice in some countries!). But, if you do wear a scarf, yes you will be in the minority, but you will send a clear message of respect to the local religion and culture.
The headscarf is definitely optional, but make sure you consider the following when choosing what clothing to take with you.
To be most effective in reducing unwanted attention, your clothing should:
Be loose-fitting: avoid anything which shows the curves of your body
Cover the knee
Cover the shoulders and chest
No have overt branding
Clothing Packing List
Headscarf: easy to buy local, bring at least one.
Kaftan: long length.
Maxi dresses/long skirts
Travel pants/jeans: not skin-tight
T-shirts: with sleeves and loose-fitting
Button-up shirt/blouse
Sandals or flip-flops
Walking shoes
A good sunhat
Consider purchasing a well-made money belt
If you're staying in a hotel with a pool, then bring along your usual swimwear. Hotels are enclosed and separate from the local population.
Top tip: if you want to go the extra mile, wear earthy colors – browns, beige, dark blue, dark green, etc.
Guide for Men
A lot of guys head out in singlets and t-shirts. Sure, this is your choice. But you won't do yourself any favors in terms of earning respect from locals. You'd be making a clear statement that you're a tourist who is on holiday.
If you choose to dress more conservatively, you can potentially appear more like a western ex-pat. One who now lives locally and therefore is harder to scam, or steal from.
To be most effective in earning respect while avoiding scams and pickpockets, your clothing should:
Not be skin-tight
Cover the knee: shorts are worn only by schoolboys in most Muslim countries.
Cover the shoulders and chest
Not have overt branding
Have a safe place to conceal cash/valuables
Clothing Packing List
Shirts: I prefer long-sleeved which can be rolled up, like the Elaho by Arc'teryx 
T-shirts: loose-fitting, not muscle tops
Travel pants/jeans: not skinny jeans
Sandals or flip-flops
Walking shoes
A good sunhat
Consider purchasing a well-made money belt 
If you're staying in a hotel with a pool, then bring along your usual swimwear. Hotels are enclosed and separate from the local population.
Top tip: if you want to go the extra mile, wear earthy colors – browns, beige, dark blue, dark green, etc.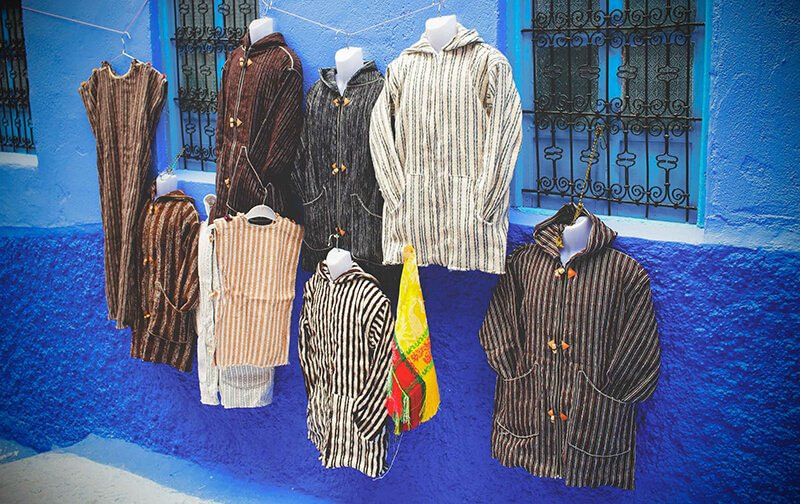 Conclusion
Taking the time to pack and dress conservatively when visiting a Muslim country doesn't take too much effort. It's not essential that you follow this advice and a lot of people visit Morocco, wear shorts and vests/singlets every day without any issues.
But by dressing in a way that respects the local culture you are less likely to stand-out as a tourist whilst also acknowledging the local faith and custom. Respect earns respect.
Marrakesh is a wonderful place and home to wonderful people. Don't fret about the planning and packing, just apply some common sense and I'm sure your trip to this vibrant country will be one of your best yet.
References
https://www.etymonline.com/word/equality
https://www.learnreligions.com/islamic-clothing-requirements-2004252