Did you know that it was possible to train your body to reduce sweating and feel more comfortable in hot countries?
Heat acclimation, the process of acclimating your body to hot and humid countries, is something most of us will do naturally at some point. But studies have shown that you can speed up this process through heat acclimation training.
The article gives an overview of the research into heat acclimation training and a few training tips for speeding up your own body's acclimation.
Introduction to heat acclimation (acclimatisation)
If you ever got off a plane in a hot and humid country and you're not used to those temperatures chances are that you've lived a real-life example of someone who is not acclimatised.
The sweat starts pouring off you as you search for shade. Then you look at the locals and wonder how they manage to look so comfortable, so dry, so laidback when it's so hot!
Sound familiar?
It's a situation I've been in many times. Disembarking my air-conditioned transport in an Equatorial country and feeling the incredible temperature and humidity change is something I won't forget anytime soon.
For most of us, we accept that for the first few days of our trip we're going to be sweaty, uncomfortable, red-faced, and probably a bit smelly.
But there are ways to speed up heat acclimation.
Once you've arrived in your destination country there are methods you can use to speed up the process. There is also a couple of techniques you can use before leaving home.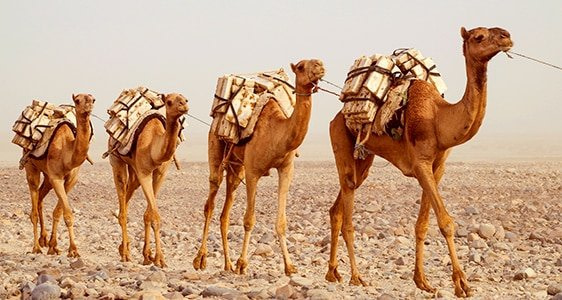 What is heat acclimation (or acclimatisation)?
Acclimatisation (or acclimation) put very simply, means that the body learns to deal with its environment.
For heat acclimatisation, the body becomes more able to deal with high temperature through improved blood flow response, more stable cardiovascular system (lower resting heart rate) and more efficient use of sweating (Sawka et al., 2011). The body also sweats differently and retains more of its valuable salts which it would otherwise have lost during the sweating process (Sawka et al., 1996).
"The three classic signs of successful acclimatisation are lower core temperature, lower resting heart rate and higher sweat rate during exercise"
How heat acclimation training can speed up the process
Firstly let's look at the more common solution: speeding up acclimatisation once you arrive in-country.
Several studies have shown that a moderate amount of cardiovascular exercise each day whilst in a new hot climate can increase the speed at which a body acclimatises to the temperature (Périard et al., 2015; Sawka et al., 2003;).
[If you've not read my huge post on staying in shape while travelling, take a look. It really is an ultimate guide based on the lessons I've learnt through my time in the military.]
By beginning with a very short amount of moderate exercises such as 45 minutes jogging and each day increasing the amount of time spent exercising, after 7 days most people should acclimatise quicker than they would have done without any exercise.
For optimal acclimatisation, it takes about two weeks of daily workouts, but for most people, the effects in the second week won't be noticeable (Sawka et al., 1996, 2003).
A heat acclimation training schedule would look something like this:
| | | |
| --- | --- | --- |
| | Cardio | Bodyweight Routine |
| Day 1 | 40 mins fast walk | – |
| Day 2 | 45 mins jog | – |
| Day 3 | 35 mins jog | 10 mins abs workout |
| Day 4 | 20 mins jog | 30 mins full-body workout |
| Day 5 | 20 mins jog, 20 mins hill walks | 10 upper body workout |
| Day 6 | 20 mins fast walk, 30 mins jog | 20 mins full-body workout |
| Day 7 | 60 mins jog | 10 mins abs, 10 mins leg workout |
In fact, this is the method that we used to use in the military when arriving in hot countries for an operation, taking the opportunity to add some functional fitness training to our daily routine.
From day one of landing in the desert, we would make sure we get a workout session in. Usually, we'd workout using this progressive workout (which you can download for free here). After keeping this up for a few days we'd all start to find that the hot and humid environment becomes a lot more bearable. And it starts to become a lot easier to sleep as well!

Heat acclimation training before you leave home
Also known as heat acclimatisation protocols, this is a technique where you are seeking to mimic the temperatures you'll be experiencing whilst travelling in your new climate.
If you have access to your own sauna, you're sorted. You can train in your sauna and this should do the job nicely. For everyone else I'll breakdown the methods into three options, as simulating a hot environment does, unfortunately, have a small associated cost.
Heat Training Option 1
This option involves wearing additional layers whilst working out in your cooler home environment. Again, studies have suggested that this does improve your body's ability to function in hot temperatures (Ely et al., 2017).
By wearing more layers than you would usually wear for training, your body's core temperature is pushed and so your body is forced to acclimatise.
You can achieve this effect by wearing more layers than usual and if you use your existing clothes, this a free option.
There are also some products available to help with increasing your body temperature during exercise. The Wonderience Heat Training Vest is one option, and it's specifically designed to increase your core temperature during exercise.
One advantage of the Wonderience vest is that ideals with the additional sweat better than say, a cotton jumper. The Wonderience is made from neoprene, which acts as an incredible insulator (this is why wetsuits are made from neoprene). 
Heat Training Option 2
You'll need to signup for access to a sauna if you don't already have a membership.
As taking an exercise bike into a public sauna isn't really an option, it's a good opportunity to break out our old favourite, the resistance band!
Much less intrusive than other options, a few resistance stretches in the sauna should increase the heart rate nicely. If coupled with a pre-sauna workout of about 60 minutes, a resistance band session in a hot sauna will mimic the hot-environment exertion you would get from working out in a hot country. This is a good mid-budget option.
Try these resistance band moves in the sauna:
Bicep curls
Front raises
Leg raises
Upright rows
Squats (if it's quiet and you've got the minerals!)
Heat Training Option 3
Another option if you have a home workout area is to splash out on a humidifier. They are not that expensive (this one is $49) and when sed with your home heating they can simulate hot and humid environments.
Use the humidifier in your spare room and start doing some HIIT workouts, exercise bike sessions or miles on the treadmill. The humidity will soon get you sweating. You need to keep the temperature turned up in the room and the doors and windows closed.
This will give you your own private acclimatisation suite!
Ultimately though, for most people who want to workout in hot countries, acclimatisation training can be done on arrival in the new climate. As long as you're not competing and hoping for a personal best time, this approach is fine.
Hydration during heat acclimatisation
It is really important to remember how quickly you can become dehydrated in and you hot climate, especially when doing exercise. Before your body has acclimatised and therefore learnt to manage its loss of essential salts, your body will be sweating out a lot of important electrolytes.
I would 100% recommend that you replenish these essential salts whilst you're exercising and afterwards. These are my favourite and I always pack them in my bag when I'm heading to a hot climate.
Here is a short infographic which covers some of the main things to remember when working out in hot climates.
Conclusion
We've seen how doing moderate exercise on arrival in a hot country can help you to acclimatise more quickly. There is evidence to suggest that pre-training your body to deal with hot temperature is possible, but involves some investment and change to your workout routines.
For most people who are keen to stay in shape whilst travelling, working out on arrival in a hot country will be fine. Just remember to stay hydrated.
References
Ely, Brett Blanchard, Laurie; Steele, Jared; Francisco, Michael; Cheuvront, Samuel; Minson, Christopher (2017) Physiological Responses to Overdressing and Exercise-Heat Stress in Trained Runners. Medicine & Science in Sports & Exercise, 50/6:1285-1296
Périard, J.D., S. Racinais, and M.N. Sawka (2015). Adaptation and mechanisms of human heat acclimation. Scand. J. Med. Sci. Sports. 25:S20-S38.
Sawka, M.N., S.N. Cheuvront, and M.A. Kolka (2003). Human adaptations to heat stress. In: H. Nose, G.W. Mack and K. Imaizumi (eds.) Exercise, Nutrition and Environmental Stress, Traverse City, MI: Cooper Publishing, 3:129-153.
Sawka, M.N., L.R. Leon, S.J. Montain, and L.A. Sonna (2011). Integrated physiological mechanisms of exercise performance, adaptation, and maladaptation to heat stress. Compr. Physiol. 1:1883-1928.