The COVID-19 pandemic has forced gyms, yoga studios, and other fitness centers to close their doors.
Children who are now attending school remotely are no longer participating in gym class, playing on the playground, or getting exercise through after-school athletics programs.
If your whole family has been feeling a bit sluggish lately, it's probably because of the pandemic! But whether you want to work out with your family indoors or outside, you can find plenty of ways to stay active without risking your safety.
From starting a bodyweight training program through Fit for Everywhere to trying basic yoga sequences with your kids, these tips will spark your inspiration.
Invest in Workout Gear


Before you make plans to work out as a family, you'll need to make sure that you have all of the right gear.
For your family, this might mean investing in yoga mats, dumbbells, or equipment like jump ropes or a backyard basketball court.
It's also very important to dress comfortably for workouts. Everyone in your family should have athletic wear that they can change into when you're going to exercise together!
For instance, you can update your wardrobe with a soft, supportive racerback bra, leggings that make it easy to stretch, and loose-fitting t-shirts.
Your kids may need appropriate shoes for working out. When shopping for new sneakers for your children, Cleveland Clinic recommends having your child's feet measured and choosing shoes made with breathable materials and rubber soles.
Give your kids some time to break in their new shoes, too — otherwise, they might end up with sore feet and blisters!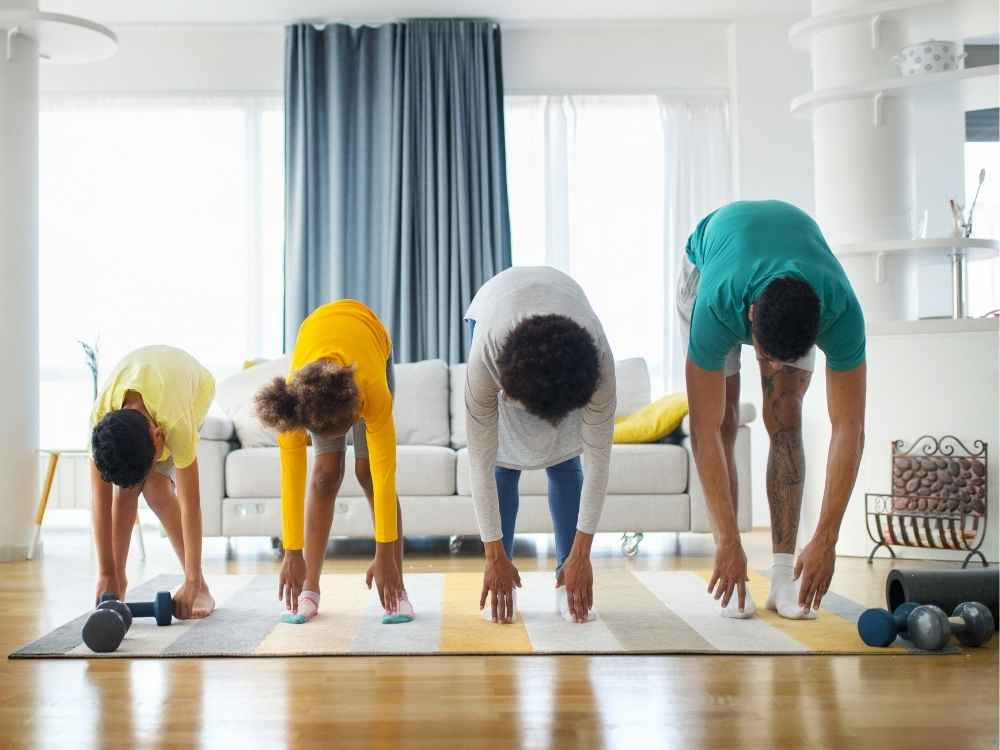 2. Gentle Yoga


This pandemic has left everyone feeling stressed out and anxious. Practicing yoga is one of the best ways to relieve stress and let go of your anxiety.
Plus, this activity is easy to do at home — you don't need to go to a studio to get the benefits.
People of any age can do yoga! If your kids want to follow along with you, just make sure to stick with simple poses — for beginners, Do You recommends focusing on the basics, like child's pose, wide-legged forward fold, and reclined twists.
You can check out online workout videos for ideas or you can link together poses that you know and move at a slower pace so that your child has no trouble keeping up.
You may want to move aside some furniture and do yoga in your living room. Or, if the weather is nice, you can head outside and roll out your yoga mats in your backyard.
3. Indoor Obstacle Course


On days when the weather is gray and rainy, you might need to find creative ways to help your family get some exercise while staying inside. If you have young children, consider setting up an exciting indoor obstacle course.
What materials should you use to create your obstacle course? You can use objects that you already have lying around the house. For instance, if you want to make a tunnel for the course, you can set up a row of chairs for your child to crawl under.
You can also set out pillowcases for your kids to jump into and have sack races. In addition, you can use pillows to create a challenge: Tell your kids to pretend that the floor is lava and then have them hop from pillow to pillow.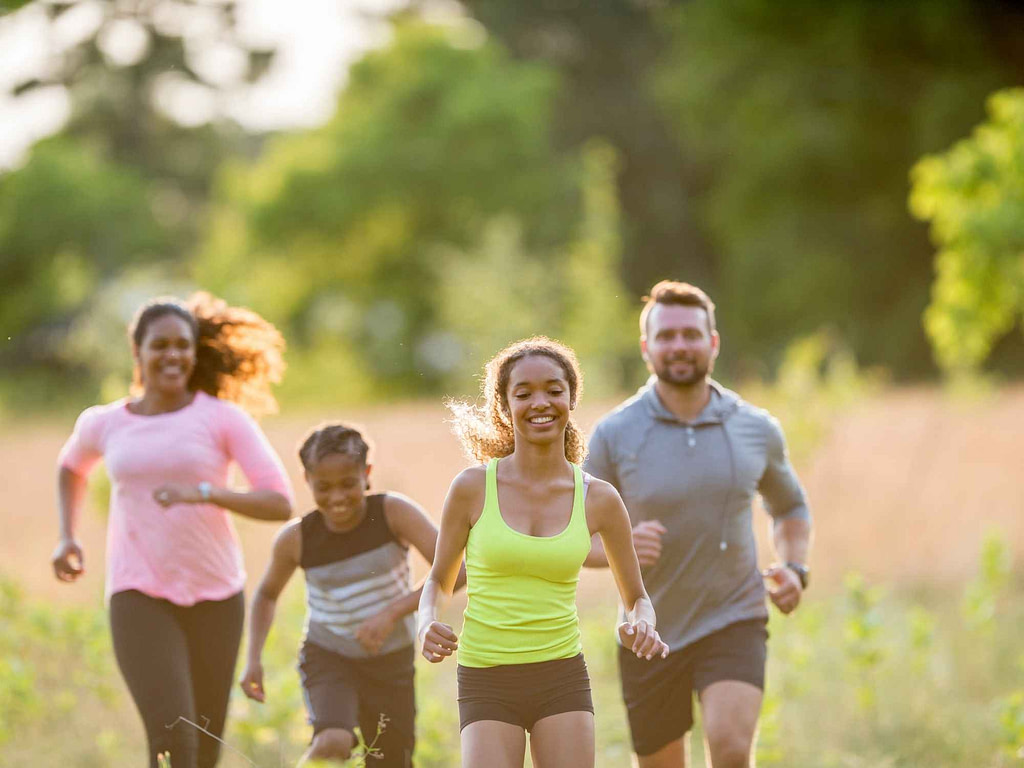 4. Go Running or Hiking


Running or hiking are great workout ideas for parents with school-aged children.
While very young children will not be ready for these more challenging activities yet, children in elementary school can definitely benefit.
If you want to go running with your kids around your neighborhood, choose a time when very few people will be outside. Keep masks in your pockets in case you do happen to pass through a crowd.
Remember: You may be tempted to run at your usual speed, but you need to pace yourself so that your children don't get left behind or find themselves struggling to catch up with you.
If you plan to go hiking, make sure to choose trails with low elevation. A stroll through a local state park is a fantastic way to spend a sunny afternoon with your family.
5. Backyard Games


With some basic equipment, there is no shortage of games that you can play in your backyard.
For instance, you and your kids can easily get some cardio exercise while jumping rope.
If you have space, you could set up a basketball hoop. Your kids can practice their basketball skills on their own or you can all play games together as a family. It's a great way to enjoy some healthy competition.
6. Bodyweight Workouts



If you miss the gym, you may want to incorporate some bodyweight workouts into your weekly routine.
And if the weather is chilly outside in your area, you'll want to exercise indoors, so this is a good option for your family.
Even young children can do basic bodyweight exercises, such as modified push-ups. If your kids do want to try these exercises with you, make sure that you don't over-exert them and let them modify each move to make it easier for them.
You can also fit in some cardio moves to these workouts, such as jumping jacks or running in place. By the end of these workouts, you'll definitely break a sweat and you'll feel stronger for it!
During the COVID-19 pandemic, your family has likely had to spend lots of time indoors, and by now, you're all looking for more opportunities to get active. After all, exercising is a key aspect of maintaining your overall health, and finding new ways to stay fit can help you stay busy at a time when many activities and events have been canceled.
With these tips, your whole family will feel inspired to stay fit and have fun at the same time!

Ready to start doing bodyweight workouts at home? Check out the highly effective program from Fit for Everywhere! Visit the website to sign up and get started today.


Post Author: Anya Willis – Creator of FitKids