The world is changing.
So many industries are scrambling to keep up with the unprecedented events of recent months. Trying to stay afloat. To adapt their business model to changing demand.
Not least of these is the fitness industry.
Gyms across the world closed their doors during the COVID-19 crisis, whilst people looked for other ways to stay in shape.
Suddenly, everyone was searching for bodyweight workout routines they could complete at home.
Either to keep up their fitness while social-distancing, or to take the opportunity to get in shape while they had more free time.
And for many, with this new-found method of training came a realization: that those monthly subscriptions and gym memberships they'd been paying for year upon year were potentially unnecessary. Even a waste of money.
Because bodyweight training has incredible benefits – and, if done correctly as part of a carefully crafted program, can help people achieve almost any fitness goal.
Bodyweight Training: Nothing New
It may surprise some of the countless numbers of people across the world who are exploring the potential of bodyweight training for the first time that it's not a new style of training.
In fact, it's the oldest.
As a means of training the body, this bodyweight training can be dated back to the Gladiators of Ancient Rome. 
And it stands to reason that bodyweight training has stood the test of time.
Essentially, the training method is all about moving one's own bodyweight and nothing more.
With this considered, it's hard to think of more straightforward way to train your body.
But the important question is: does it get results?
Results: Fast, functional… and future-proof?
There's a reason that the military prefer bodyweight training to any other training methods when it comes to building up fitness, strength, endurance and overall resilience in its people.
That reason is: because bodyweight training works.
It's highly effective.
[Related: The Military's Functional Fitness Formula That'll Revolutionize Your Workouts]
As an ex-military officer, I know from first-hand experience just how powerful this style of training can be.
I've seen it transform regular people into endurance machines. I've witnessed body fat plummet and muscles develop a firmness more like that of watermelons, than human tissue.
And I've seen how bodyweight training can be done anywhere in the world.
Whether that be on small ships in the middle of vast oceans, or in the arid, sandy deserts of the Middle East.
From humid jungles to hotel rooms, and of course, in homes – I've seen bodyweight training used in every environment. With incredible success.
Which is why I continue to use it as my primary training method to this day.
And why I train others in how to exploit its maximum potential. 
Learn more about my coaching here:
Considering the huge benefits and effectiveness of bodyweight training, and the fact that it can be done anywhere: in isolation or as part of a group, it could arguably be the most future-proof training method available to us.
Equipping ourselves with the knowledge needed to create bespoke, personalized bodyweight workout programs for use either at home or on the road, is an excellent way to ensure we are always prepared to workout and stay in great shape – whatever the world throws at us.
Perhaps the days of the gym (and monthly subscriptions) are over – but can you really achieve your fitness goals without equipment?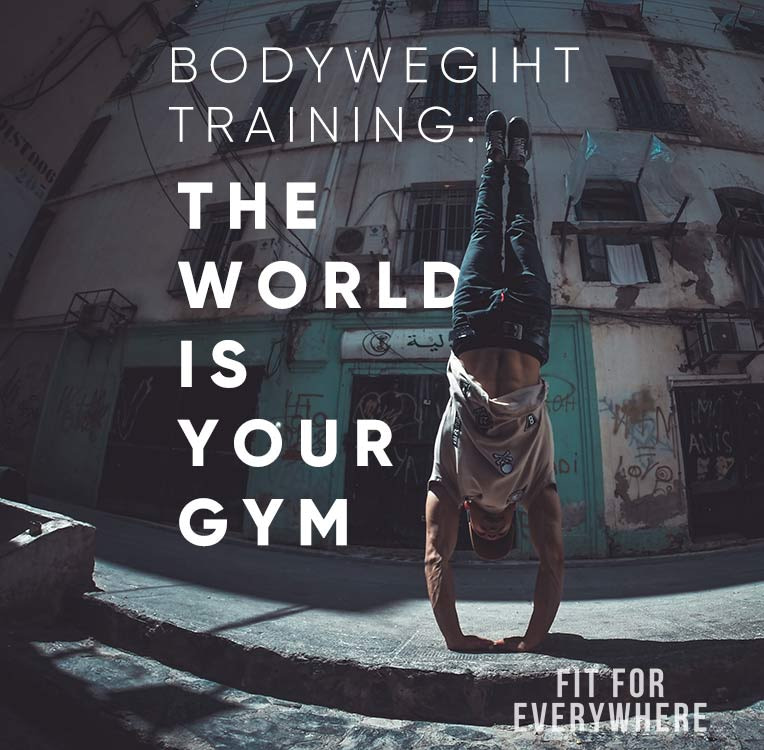 Bodyweight Training for Different Goals
A lot of people assume that bodyweight training is all about gymnastics and yoga.
Which of course, is not true.
In fact, bodyweight training can be used to achieve almost any fitness goal.
Which is one of the many benefits of this type of exercise.
Workout programs can be carefully tuned to focus on shedding body fat in ultra-fast timeframes, or building muscle strength and definition. 
Bodyweight training is also the quickest way to get the coveted six-pack, that so many people desire.
With some careful thought into how the workout program is structured, almost any fitness goal (with exception of pointless bodybuilding) can be achieved without any equipment – right at home.
This is not a popular statement within the fitness industry – because gyms make huge amounts of money in subscriptions from people who are led to believe they need the gym and its equipment to succeed.
But it's 100% true that you can achieve almost any fitness goal without any equipment.
[Related: How to Burn Fat and Build Muscle at the Same Time.]
11 Other Benefits of Bodyweight Training


1. It's a highly-efficient workout.
You can achieve very-impressive results with short, intense workouts.


2. It's challenging for any level of fitness
Workouts can be tailored and adjusted almost infinitely. The possibilities and scalability of bodyweight training is endless!


3. Combine cardio and strength training
Target more than one goal in the same workout using interval-training.


4. You can burn fat – fast.
Bodyweight training is one of the quickest ways to burn fat – combine this with the muscle toning benefits of this method of training and you've got some pretty impressive visible results.


5. There's never an excuse to not workout.
Because you can do bodyweight workouts anywhere, there is very little reason you can't squeeze a workout into your day.


6. It builds core strength.
Because you're using the core to stabilise your body throughout these workouts, you'll develop a rock-solid core in no time.


7. Increase your flexibility.
Stretching out the various muscle groups as part of your workouts can improve flexibility – the perfect antidote to desk-based work.


8. Achieve better balance.
You're constantly using your stabilizer muscles in bodyweight training. The result is improved balance as your muscles and brain develop their ability to keep you upright and stable. This is a great benefit if you enjoy other sports that require balance.


9. You'll never get bored.
With the infinite amount of workout combinations and design, plus the fact that the world is your gym, you can always find ways to keep things interesting and varied.


10. It's low-cost.
No monthly gym subscriptions. No equipment. No hassle. Bodyweight training is a great low-cost solution when compared to regular gym attendance.


11. Helps with injury prevention.
As a method of exercise it is one of the least likely to result in injury as there is no unnatural resistance on the body. It's all your own weight. Plus you'll be training your body to better cope with awkward positions, falls and twists – it can help reduce back pain and prevent the likelihood of injury in everyday tasks.
Conclusion
Bodyweight training has many benefits, not least the fact that it can be done anywhere and is one of the best ways to achieve incredible levels of all-round fitness.
In light of recent world events, it is highly likely that the popularity of bodyweight training will continue to grow as people wake up to the fact that they can achieve their goals right at home.
Bodyweight training could soon become the new fitness-normal.